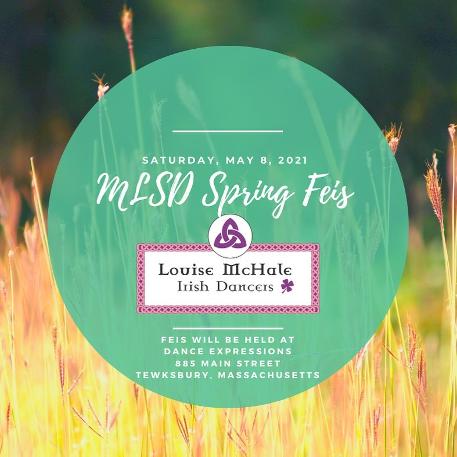 Join us for The MLSD Spring Feis on Saturday, May 8th 2021!
Location- Dance Expressions: 885 Main Street, Tewksbury, Massachusetts (2nd Floor)
All MLSD Feiseanna are Open Platform. We are members of Rince Tua Nua and run all competitions according to Rince Tua Nua's Rules.
https://www.rtnirishdance.com
Registration for our Feis will open on April 9th & will close on April 25th.
8:30 AM- Doors will open
9:00 AM- Beginner
10:00 AM- Intermediate
12:00 PM- 12:30 PM Lunch Break
12:30- Novice
2:30- Prizewinner & Champ
The order of dances will be: Reel, Light Jig, Single/Hop Jig, Slip Jig, Treble Jig, Hornpipe & Trad Set.

No 8 bar wait in between dancers.
​
Payments are due at the time of registration. Registrations will not be accepted after April 25th. A dancer is not registered until they have paid.
Payments must be sent via PayPal to: Info@MissLouisesDance.com
(Members of our School (MLSD) can have their card on file charged for feis fee's).
​
CHANGES (adding a dance or changing a level) may be made up until April 25th. Changes are not permitted the day of the feis. Please make all changes via email (Info@MissLouisesDance.com). If a dancer has entered in a wrong category/dance, they will not be allowed to compete in that dance (no refund).
There are no refunds, transfers or credits associated with this event.
The feis waiver must be completed online for all participants.
​
Champion & Preliminary dancers must provide their own dongle for set dance music being played on a Bluetooth device.
​
Dancers must pick up their own awards by the conclusion of the their dance session.
​
The music played at this event will be from Beat Feis Music app. There will not be an 8 bar wait in between dancers.
Free admission for all guests.
One Guest per dancer will be permitted.
Dancers are grouped by the age they are on feis day. Example: U10 will be dancers who are under the age of 10, not including age 10, U12 will be dancers who are under the age of 12, not including age 12, and so on.
​​
We will follow all CDC Guidelines at our event for the safety of all dancers and guests. Please be sure to follow all MA Travel Advisory Rules.
​
MASKS ARE REQUIRED BY ALL
WE LOOK FORWARD TO SEEING YOU ON MAY 8TH!
MLSD reserves the right to refuse entry/admission to any one for the safety of the event participants. Dancers & their families assume all risks associated with participating in this event. Dancers & their families waive any claim against Miss Louise's School of Dance, its employees & volunteers, as a result of participating in this event.

Thank you for registering for the MLSD Spring Feis! We look forward to seeing you on Saturday, May 8th in Tewksbury, MA. All dancers are permitted to bring 1 guest. To stay within capacity limits we ask that all dancers & guests enter the venue no earlier than 20 minutes prior to your assigned dance time. In the event we are running early, we may start a group early as long as everyone in the competition is present. If not everyone is present, we will wait until the scheduled start time. Awards will be distributed at the awards table shortly after each group has danced. Once your child has finished dancing/ checked the awards table, please leave the venue to allow the next group of dancers to come in. If your dancer is in multiple levels, you are welcome to stay until they are finished dancing. Dance teachers are of course welcome to stay throughout the day to watch your dancers.
We ask that all dancers pick up their number card upon arrival at the dancer check-in table. There will be no admission fee. We will also have a used solo dress rack if anyone would like to try to sell a dress. Please bring your dress along with a coat hanger/ with a note pinned to dress stating price, contact name & phone number.
Please be sure to fill out your online feis waiver if you have not already done so. The waiver can be found here:
https://misslouisesdance.wufoo.com/forms/w1kwll5a1468gtp/
We will be posting updates throughout the day on our Facebook Page announcing when groups are starting/ other details/ etc. you can follow us here: https://m.facebook.com/misslouisesdance
Beginner (will be counted in)

Reel (124)
Light Jig (116)
Slip Jig (124)
Single Jig (124)
Treble Jig (92) - 16 bars (1 step)
Intermediate (counted in up through age 10)
Reel (113)
Light Jig (116)
Slip Jig (113)
Single Jig (120)
Treble Jig (92)
Hornpipe (138)
St Patrick's Day (94)
Novice
Reel (113)
Slip Jig (113)
Novice Single Jig (120)
Treble Jig (73)
Hornpipe (113)
Trad Set: Jockey to the Fair (92)

Prizewinner
Reel (113)
Slip Jig (113)
Novice Single Jig (120)
Treble Jig (73)
Hornpipe (113)
Trad Set: Three Sea Captains (96)

Champion
Event - Slip Jig , hard shoe, modern/ non-trad set of choice (must be contrasting tempo to hard shoe round)
Reel (113) - 40 bars
Slip Jig (113)
Treble Jig (73)
Hornpipe (113)
Trad Set: King of the Fairies (130)